Hamilton Kirikiriroa Airport, a waharoa, a vital gateway.
A place where regions come together, pathways cross and connections are formed.
We're fiercely, proudly mana Waikato.
We unite people through manaakitanga, care and unity.
Our pulse flows from the waters of the awa, into the whenua that surrounds it, back through time and forward into the future.
Hamilton Kirikiriroa Airport, a waharoa, a vital gateway. A place where regions come together, pathways cross and connections are formed.
Te Ara - our pathway to tomorrow.
We're master planning Te Ara - our pathway to tomorrow - where innovation, fast-paced growth and sustainable practices will propel our region to greatness.
Kia Ora and welcome to Hamilton Airport:
a vibrant hub with a rich history and a bold future
Click here for information on the design intent of our brand and it's application within our terminal.
Kia Ora - we care for the wellbeing of our visitors, our people and our place.
Sustainable | Wellbeing | Welcome.

Kia Maia - we are brave in our actions and confident in our identity.
Brave | Mighty | Confident.
Kia Mana - we respect others and support them to do great things.
Enabling people to do great things.
Pekapeka-tou-roa
The Hamilton Airport design narrative begins with the Pekapeka - Aotearoa's longtail bat - native to this area and one of our most endangered species. It is used as reference in the airport's spatial design, brand identity and cultural expression.
Often looked upon with fear and distaste, the humble Pekapeka is actually a bird with very special qualities and is known for it's unique ability to echo-locate (sonar) as a means to fly and travel, using a high tone pitch. The glasswork around the terminal references this sonar ability. Culturally, the Pekapeka symbolises a gateway or transition point between the physical and spiritual worlds, where the two interweave. Because of this, carved Pekapeka are often gifted to travellers to offer manaakitanga and protection, a beautiful parallel with the care we provide to our customers.
This story of interweaving and transition provides a strong visual metaphore of duality and symmetry. We merge the traditional form of the Pekapeka with a modern design approach to create our new Hamilton Airport tohu (symbol). The Pekapeka-tau-roa has been celebrated within many of the cultural expressions for the Hamilton Airport terminal as a significant member of the bird whanau (family) and a reminder of our role as kaitiaki (Caretaker) of special treasures. The blue symbol above is our stylised version of the Pekapeka and you will see this symbol both inside and outside the terminal.
Pekapeka Pounamu/Taonga
Our specially commissioned greenstone Pekapeka (opposite ) sits proudly in our boardroom - it is a Taonga resource that has whakapapa entwined in it. The piece comes from Rakai Pounamu Jade Studios, which is owned by New Zealand's leading stone and bone sculptor, Lewis Gardiner - work, from Jade Studios is always in high demand, so were very happy to have them work with us. The piece itself was carved by Whare Bidois, a carver who works under Lewis's mentorship. The greenstone comes from Te Wai Pounamu (South Island) and is described as Kawakawa (dark green) - Pounamu stone is restricted to accrdited experts. Our Pekapeka is quite large - 20cm wide by 15cm high and has paua eye inserts.
The Pekapeka Pounamu is a representation of a traditional motif developed by early Maaori. It's shape, look and stylised qualities are all virtues of the Pekapeka. Two bodies, one head (but really there are multiple bodies and heads if we think holistically.) You'll notice the body of our Pekapeka is long, in reference to the Tou Roa (Long-tail). Contrary to the large eyes, which they are often depicted with, the eyes are more of a reference to their senses (the ability to see without sight, per say). Early Maaori recognised this as the ability to communicate with all the senses, and potentially other worldly realms). The Pekapeka Pounamu is a symbol of a precious gift (Taonga) venturing into other realms and then returning back to their home.
It has been suggested by the artist that to engage with the Pekapeka you should stand back from it around 1m, squint slightly until the sight begins to blur - you should then start to see the Pekapeka "double up" or shimmer - that is how the Pekapeka exists in both realms.
"Ahakoa he iti, he pounamu - although small in size, it's still a treasure".
To celebrate our cultural journey and the history of the land on which the airport sits, Hamilton Airport commissioned a series of
culturally significant artworks, curated by Pukenga Toi Artist Eugene Kara, and created by local Maaori artists. Norm Hill was Pou Tiaki, our cultural ambassador.
The Pekapeka theme is evident throughout these artworks, further deepening it's meaning and significance.
These artworks, and the rich meaning behind them, are detailed below. By clicking the image, you will be taken to a page with more information on the artwork,
and on the artist, or artists, who created the work.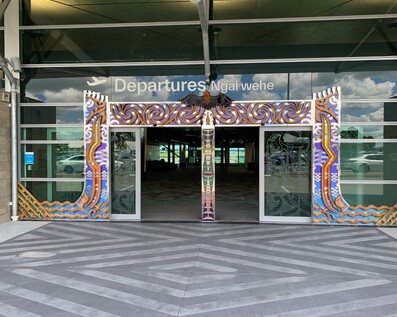 Waharoa
The Waharoa (entranceway) is a key feature of the Hamilton airport terminal arrival experience.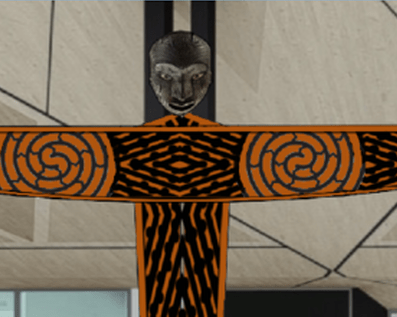 Taunga Rererangi o Kirikiriroa
This Manu Aute (Maaori kite) "Rererangi ki te Ao - "Journey quickly into the sky, out to the world" - represents safe travels wherever your journey takes you, and a warm welcome home, back to the Waikato region.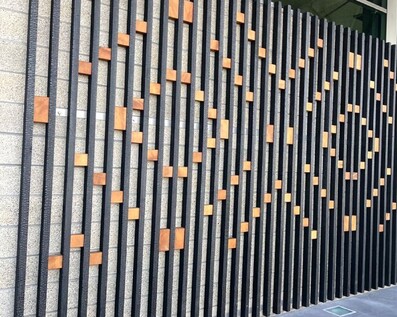 Kaaranga ki te Ao
Call out to the world - compliments and enhances the Waharoa entranceway experience.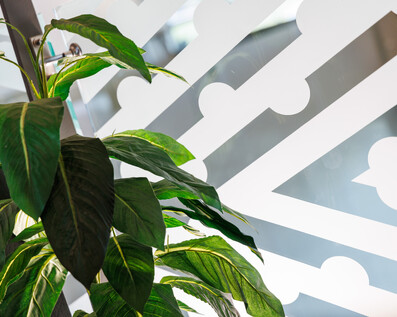 Kapua Pekapeka
This design is representative of kowhaiwhai (painted design), taniko (intricate weaving) and Whakairo rakau (wood carving).